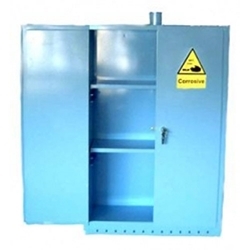 Category:
Safety Cabinets
SKU Code:
Acid Corrosive Liquid Cabinet
SPECIFICATION:

Dimension: 1090(w) x 450(D) x 1650(H) mm

Capacity: 620 Litre internal
Material: E. G. steel sheet, 0.8mm / 1.2mm thick
Features:
· Double wall build with 1.2 Electro-galvanized plates & 30mm air buffer chamber.
· Base with built in ventilation holes.
· Top ventilation complete with a 50mm neck to connect to suction system.
· Adjustable shelves
· Twin doors with 3 point latch both sides, and security locks.
· Full door-length stainless steel hinge to prevent gas leakage.
· Prominent hazard label at door.
· Baked epoxy powder finish.
· Levelling screws at foot.
· Cabinets with built in earthing.