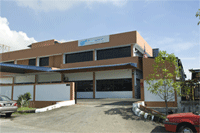 is proud to have a dynamic, experienced and qualified team of employees to ensure the smooth running of the company. The Directors of the company were involved in planning, development and management directly to ensure the clients and potential customers of

received a well and good after sales service, quality products and to satisfy customer requirement and specifications.

was incorporated in 1996 as a trading entity primarily focusing on supplying laboratory fittings, centrifugal exhaust fans, emergency drench showers and eyewash and polypropylene products.

is also well-versed in laboratory consultation and specification services.
Realizing the immense demand for laboratory fittings as well as our company's potential to manufacture these products locally,

in 2003, pioneered the manufacturing of Laboratory Fittings in Malaysia.
Over the years, despite servicing a niche market and a modest turnover,

is one of the largest manufacturer in the ASEAN region that maintains superior quality for a comprehensive range of Fume Cupboards, Laminar Flows & Laboratory Fittings which includes Laboratory Water & Gas Fittings, Emergency Drench Showers & Eyewash, Chemical Waste Discharge System and Polypropylene products for use in private sectors and government sectors. We have presently completed supplying these products to many universities, colleges, hospitals, industrial factories and also secondary schools in Malaysia and other countries.

laboratory fittings, emergency shower & eyewash has passed the SIRIM Malaysia Berhad tests & PSB (TUV) Singapore tests. All our products undergo a very strict Quality Control procedure to maintain the high standard of

products.

RANGE OF PRODUCTS:
Laboratory Water & Gas Fittings
Polypropylene Pipes and Accessories (Sinks, Anti Siphon Bottle Traps, Line Coupler, Flexible Hose etc.)
Epoxy Worktops & Sinks
Fume Cupboard & Fittings & Remote Controls\
Dilution Tank & Neutralization Tank
Emergency Shower & Eyewash

OUR COMMITMENT
At

, we are committed to introduce, promote and market our laboratory products and services by understanding our client's laboratory needs and to offer a practical solution with appropriate materials and systems to be used in their laboratories.
Our special advantages are that all our products are designed and manufactured with a special view to the requirements of a modern laboratory. Good performance, durability, easy operation, flexibility and stream-lined design with an easy-to-clean and attractive appearance, are hallmarks of

products, which is why they are ideal for all types of laboratories.
We also guarantee a satisfying after sales service to our customers.