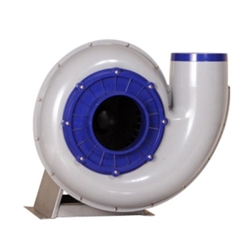 Category:
Centrifugal Fan
SKU Code:
Centrifugal Fan
In the practice the PV fan proves to be sturdy, compact, synthetic material fan with good ventilating properties, such as a large production of air considerable static head, a low sound-level and high efficiency level.
All parts are proof against corrosive and aggressive fumes. The PV fans are suitable for outdoor mounting.
FIELD OF EMPLOYMENT
The fans are employed wherever moist, acid or chemically polluted fumes must be extracted. This includes laboratories, chemical and petrochemical industry, galvanic-, photo-, paper-, refining-, textile-, food & dairy- industry, paint-spray cabins, printing-works, garages, etc.
MATERIALS
The fans are made entirely of PP (Polypropylene). The motor-base is made of galvanized steel. Housing is constructed of strong high-density Polypropylene for maximum corrosion resistance. (Fibre-glass construction are available upon request).
MOUNTING
Standard design is that all fans are directly driven by Single / Three Phase revolution Electromotor. On application, the fan also be supplied with belt / pulley drive for other speeds.
DEPENDABILITY
The fan warrants a high & long-lasting dependability because of their sound construction and high-quality materials.
ECONOMIC OPERATIONS
Because of their high efficiency the fan result in economic operations.
MAINTENANCE
We recommend an annual check on:
Pollution of the fan (pollution can cause the impellar out of balance)
Clogging of the condensation-drain and drain pipe.
Fastening of the fan and electromotor to the motor support.
Condition of the electromotor and the electric connections.
SOUND DATE
More extensive sound-data can be obtained on application.
CENTRIFUGAL FAN CASING AVAILABLE IN 6" , 8" , 10"